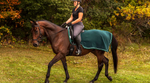 The summer heat is beginning to break, the seasons are beginning to change, and the horses are getting fresh. It's the time of year when quarter sheets come out, blanket changes are frequent, and horses stay in the barn for longer hours. Chilly weather slowly creeps in, so it's vital to have the necessities ready to go! Check out our top picks to set yourself up for success this season. 
Sadly, the time to break out your blankets is near. As horse owners, we have everything from 450g turnout blankets to no fill stable sheets and everything in between. It can be overwhelming to keep track of where they are and quite messy trying to fit them all on a blanket bar. Our Stall Front Storage Bags keep the clutter and confusion at bay by organizing all of your blankets for the season. Our Large Stall Front Storage Bag easily holds 3 of our thickest and largest dress sheets with room to spare. For smaller and lighter sheets, the standard Stall Front Storage Bag is a great option. The flap closure keeps debris out while still allowing for easy access. For an extra secure zipper closure, check out our Large Deluxe Stall Front Storage Bag! Hook and loop fasteners attach to vertical and horizontal stall bars, and a carry handle allows easy mobility. Adding a label, logo, or name with embroidery is great way to enhance your organization. The Stall Front Storage System is perfect for housing all of your horse's wardrobe season after season. 
The 100M Riding Blanket is a buttery soft, lightweight, and wind-resistant microfleece quarter sheet. Perfect for warming up, cooling down, or keeping a just-clipped horse warm. It's a great option for riders in warm climates that experience cold snaps but might not need a heavy fleece or wool! We've designed our riding blankets to be versatile to fit your needs each day. Drape it over your legs or under the saddle flaps to simply remove it when necessary. You can also place it under your saddle for the entirety of your ride. If you're looking for an affordable and functional quarter sheet, your search ends with The 100M Riding Blanket.

Our Diamond Knit Dress Sheet is the modern version of an Irish Knit. This unique fabric is the perfect combination of performance, durability, and aesthetics to fit your needs as a fall cooler. Moisture is quickly wicked away with a mild stretch that conforms to your horse's body to optimize drying time. It's more lightweight when compared to wool or fleece, making it ideal for riders with mild winters! The Diamond Knit Dress Sheet embroiders beautifully and is available in many colors to design your dream sheet. Whether you want all of the bells and whistles with our Signature Diamond Knit Dress Sheet or an everyday ultra-functional garment, you will not be disappointed with The Diamond Knit Dress Sheet!
Say goodbye to fleece polo wraps and hello to The Saratoga Bandages! The original wrap of its kind, The Saratoga Bandages boast a groundbreaking and versatile design for lower leg support and protection since 1998. A mild, controlled stretch properly supports tendons and ligaments to avoid injury, with a unique nonslip silicone application to keep them in place. They are perfect for fall rides as they increase airflow to the leg and do not hold excess water. The lightweight and highly breathable nature make The Saratoga Bandage the ideal option for your horse's legs on a hunter pace or leaf-peeping trail ride!