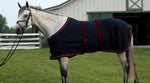 Stable Sheets are one of those blankets that may not be used constantly, but you'll be thankful to have a good one on hand when needed. Perhaps you're heading to an indoor show circuit and want coverage for your horse while in their stall over night. Or maybe you're working with a rehab case on stall rest that may not need layers and layers to stay warm. Whatever your predicament, we are proud to offer 4 styles of the best Stable Sheets on the market that will check your boxes. 
The Sanford Stable Sheet is more durable and breathable than your typical stable sheet. Not only is the Sanford water resistant but it is also UV and fade resistant making this acrylic fabric built to last. The Sanford is not only built for durability but for comfort. The shoulders have built in rip stop nylon chafe guards to help prevent pesky shoulder rubs. The stable sheet also features a bias surcingle and contoured rump for added fit. Complete with D-ring leg straps and two chest straps the Sanford stable sheet will keep your horse cozy on those chilly evenings this fall.  
A modern take on a classic Saratoga favorite. This favorite stable sheet has been improved with modern updates and enhanced with a new recycled poly-cotton fabric as the base. This environmentally friendly poly-cotton is both breathable and comfortable, perfect a warm extra layer on chilly nights. Perfect for stall usage with dual bias surcingles and d-rings for leg straps to help keep the sheet in place. Easily placed in the wash for those messy sleepers. 
The Saratoga Anti-Sweat Sheet lives up to its name, keeping your horse warm and dry so you don't have to worry about them catching a chill. Our Diamond Knit fabric is a multi-functional athletic fabric that is excellent at pulling the sweat away from your horse's body. The two full belly surcingles are designed to hold the fabric closer to the horse's body to enhance its moisture wicking power. This Stable Sheet is also treated with 3M Scotchguard™ to resist stains. When it is dirty just pop it in the washing machine and don't worry about shrinking or fading! This makes the Saratoga Anti-Sweat Sheet a perfect brisk fall weather stable sheet for your active equine friend!
The Polartec® Power Air™ Blanket Liner
The Polartec™ Power Air® Blanket Liner combines the power of Polartec™ technology with the comfort of Saratoga Horseworks garment design. This blanket liner is designed to be comfortable for your horse while keeping your blanketing routine simple. No longer will you be constantly switching your horse into cold blankets when they can continue to have on this warm blanket liner! The Power Air® technology is constructed of two different surfaces in order to house air pockets to perfectly capture and retain your horse's natural body heat. The best part, the Power Air® material is made from at least 50% recycled plastic bottles, so you are saving the planet one horse blanket at a time. This blanket liner seamlessly layers under any turnout blanket as buckles are not used. Combine with our Blanket Liner leg straps and you have a match made in heaven!
So, which stable sheet is right for your horse? Use coupon code BLOG for 10% off your custom Stable Sheet.