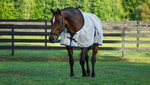 If you walk into the horse clothing section of any tack shop, you'll be lost in a sea of fly sheet brands and styles. All of which claim to have various standards of effectiveness and durability. These mass-produced sheets are constantly changing with new tricks every year to get you to buy, and it can be difficult to truly know what's best for you and your horse. None of the competition matches the exceptional quality of The Saratoga Summer Turnout that has successfully stood the test of time. Neither the design nor the fabric have changed since 1999. And that's because it exceeds expectations every time. 
Designed to Last
The Saratoga Summer Turnout is designed to last. Our unique, anchored leg strap design attaches to the middle of the garment and is reinforced by the surcingle, making it harder for notorious blanket rippers to destroy. We use a specially made mesh fabric that will not fray when torn. This strength will lessen the chance of a small rip getting worse. It's important to note that all plastic buckles on our horse clothing are guaranteed for the life of the garment. If the sheet is intact and usable but needs a new buckle for any reason, please don't hesitate to reach out for replacements. Lastly, you can rest assured that the integrity of the materials used aren't compromised from sitting in shipping containers, warehouses, etc. for extended periods of time as all Saratoga Horseworks products are made to order. 
.
Equine comfort that is made to last
Comfort Is Our #1 Priority
Your equine friend is going to spend many hours in their fly sheet during hot, buggy summers. It's important to us that they remain comfortable during their time spent in turnout. We developed invisible shoulder gussets that create a sleek, offers maximum shoulder mobility, and preventing shoulder rubs. Our unique mesh is not only more durable but also highly breathable with moisture wicking properties. Harmful UV rays are reflected away from your horse's body for enhanced protection. Horse owners across the US love the Saratoga Turnout as it not only protects your horse, but also helps them stay cool.  
.
The Oasis fabric is perfect for sun sensitive equines
.The Original vs. the Oasis; which to choose?
We offer our Saratoga Summer Turnout in two different fabrics to meet the needs of every horse! The original Saratoga Summer Turnout sheet is made of a lightweight, interlocked woven mesh that is non-absorbent and ultra-durable. This will keep your horse bug and sweat-free even in the hottest of climates.
Need even more protection? Our Oasis fabric has you covered with a smaller holed mesh to keep the biting flies at bay while blocking 75% of UVA & UVB rays. The Oasis Summer Turnout is ideal for dark coated horses who tend to fade or sun-sensitive equines who need extra defense without sacrificing durability. This breathable mesh is treated with 3M Scotchguard for stain resistance and easy cleaning. The Oasis Summer Turnout is available in a euro-cut style for bigger bodied horse who may need some extra room, as well as with a neck attachment for full coverage. 
.
Add some "spice" to your STO with our standard piping!
No Two STOs are the Same!
Lastly, have your special equine friend stand out from the herd! At Saratoga Horseworks, we pride ourselves on allowing every horse and rider to own their individuality. Choose from 14 different trim colors and add one of our 15 different standard piping colors to make your horse's fly sheet truly one-of-a-kind. For additional barn organization, consider color coding each horse's wardrobe for quick changes without shuffling through a pile of sheets to find who wears what.
With the Saratoga Summer Turnout no longer will your horse be hot sweaty and uncomfortable during the summer bug season. Treat them to a quality fly sheet they deserve that matches their big personality that we love!