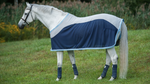 Picture this: you're in your tack room trying to pack for an away show. You're looking at the weather and trying to decide which of your dress sheets will keep your horse the most comfortable. You are torn between your athletic Diamond Knit Dress Sheet and your cool and sleek Oasis Summer Dress sheet. What if I told you we have a new dress sheet that will solve all your packing woes!
Introducing the new member of our dress sheet family the Oasis Hybrid Dress Sheet. Just like the name, this is a hybrid combination of our two hardest working dress sheets to form a new innovation in the equine clothing industry. 
The top portion of the hybrid dress sheet is made out of the same material as our Diamond Knit Dress Sheet. This fabric is known for its wicking abilities, to help your horse stay drier and more comfortable. We focused on keeping this fabric over the back, that is a high sweat area after being ridden. This top layer will also help your horses back stay warmer and those muscles stay looser, no cold backs here!
The bottom layer is made from the same material as our best-selling Oasis Summer Dress Sheet. This soft mesh material if perfect for keeping your horse cool while keeping the dust and sun off! We focused on keeping this material on the lower portion so your horse would stay cool while the top panel did its job!
The best part of this dress sheet, is that it is fully customizable. No longer are you stuck with a select group of ugly color combinations, you get to pick your own that fits both you and your horse's style. Keep it sleek and modern or go crazy and have some fun! With over 50,000 combinations to choose from there's one waiting to become yours!